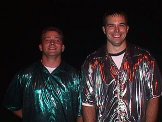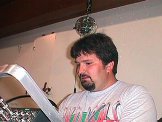 Terry: First of all if I may right out of the gate...............where did the name, "FISH" come from? (was lobster already taken,hahaha?)
eric:After playing out,we found out that every name we picked was already taken by someone......we had a different name every week!!
mark:Truthfully,I think that Jeff should answer this question...............
(it was his idea.......!)
Jeff: (smiling from ear to ear redder than red) Well,after practicing one
night at my place,we were all stumped on what to re-name ourselves after so many names already. During a break,I looked over to the frig and on top of it was a fish bowl with a fish,hummmmmmm??? Soooooo!! I said,HEY!! WHY NOT "FISH"? How about "FISH"

Terry:Good thing no one was hungry huh? the "band": YEAH<YEAH<"FISH"!!!
Jeff:And that is how we became "FISH"!!
Terry: So..."FISH" is it.....ooooohhh waiter??? hahaha!
Terry:How many are there in the band?
Mark:Totally? Well,if you include us all there are 9!
Terry: could you introduce yourselves please??
Tony a.: Yes,I'm Tony Albanese I'm on keyboards.
Jeff: I'm Jeff Holenchick and I play guitar.
Rich: I'm Rich Yarwood and I play lead-guitar.
Eric: Eric Minich, drums!!
Tony M: Tony Minich...bass-guitar!
This Web Site Designed By:
Shelly Tice
shellytice@hotmail.com
Last Updated:February 8, 2002 12:45 AM